Runzas
Recipe courtesy
Kitchen Collectables, Inc.
Lesley Roubicek Turman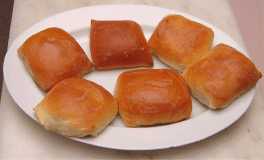 Never had a Runza? This is an old German recipe.
Dough:
2 pkg. Active dry Yeast
2 cups warm milk
1/2-cup sugar
1/2 t. salt
2 eggs - beaten
1/2 cup shortening, margarine or butter
7 to 8 cups all-purpose flour
Put yeast and milk in a bowl. Let sit for 5 minutes. Add sugar, salt, eggs and softened butter.
Mix. Gradually add flour while mixing. Add flour until dough pulls together into a ball. Knead for 4
or 5 minutes or until dough is smooth. (This really works best with a free-standing mixer with a
dough hook)
Put in a greased bowl, cover with a towel and allow to rise until double.
Punch down and let it rise again.
Remove dough from bowl and divide into thirds. On a floured surface, roll one portion of the
dough to 1/4" thickness. Cut into 5"or 6" squares. (Reserve dough you cut off to reroll.)
Give each square an extra roll with the rolling pin before filling.
Filling:
2 lbs ground beef
1 head of cabbage – finely shredded
Lots of salt and pepper
Brown ground beef. Add shredded cabbage and cook over medium heat until cabbage is
softened. Add salt and pepper to taste. It takes a lot!
Start this about halfway through the second rise of the dough. Set aside until dough is ready.
Making Runzas:
Put a large mound of filling on the center of each dough square. Pull opposite corners of the
dough together and pinch to hold. Pull the opposite two corners together and use your fingers
to pinch all edges together to seal in filling. Turn Runza over and put on a cookie sheet lined with
parchment paper (helps to keep any leakage from staining your cookie sheet)
Space Runzas about 1 inch apart. When cookie sheet is full put a towel over it and let it rise for
about 15 minutes.
Bake Runzas in a 350 degree oven for 15 to 20 minutes – until they are a deep brown.
Remove from oven and rub butter on the top of each Runza.
Cool on cooling rack or eat them now!
I made 28 Runzas from this recipe. Runzas can be cooled and then frozen.
To reheat just put one in the microwave for one minute. Package them in individual bags and they make a GREAT
lunchbox treat!
Idea: Try different fillings. Barbecued beef would be good. You could add cheese and/or onion to the recipe above,
Note: The dough is a sweet dough so if you find yourself with some leftover, you can make it into cinnamon rolls!